You want to know how to find the MAC address of your Fire Stick device. You might be happy to hear that the process is fairly simple, and if you can find your FireStick's MAC address, you can do it for Apple TV as well.
W
e are here to describe the steps you need to take to find your Fire Stick device's wireless MAC address. Let's get to it:
What Is a MAC Address?
To become a part of any number of networks, your computer requires an adapter. Each adapter has a unique value that identifies it. That value is known as the MAC address.
Method 1: Find MAC Address Through Settings
Step 1: Go to FireStick Settings
The great thing about the FireStick settings screen is that it is organized very well. You don't have separate sections for network settings and advanced settings. Everything, including Wii settings, is accessible through a single screen.
So, from the home screen of your Amazon Firestick or Amazon Fire TV device, click on the Settings menu icon. This icon comes in the shape of a cog and is located on the right-hand side of your Amazon FireStick screen.
Once you find it, click it to enter the Settings menu and have a look at your network information. We'll talk more about how to get to the Settings screen for your network on the FireStick device in the upcoming sections, but for now, just know the process is not as difficult as it is on a Roku device or many of the other devices available in the streaming market today.
Step 2: From the FireStick Device Settings Screen, Click on 'Device'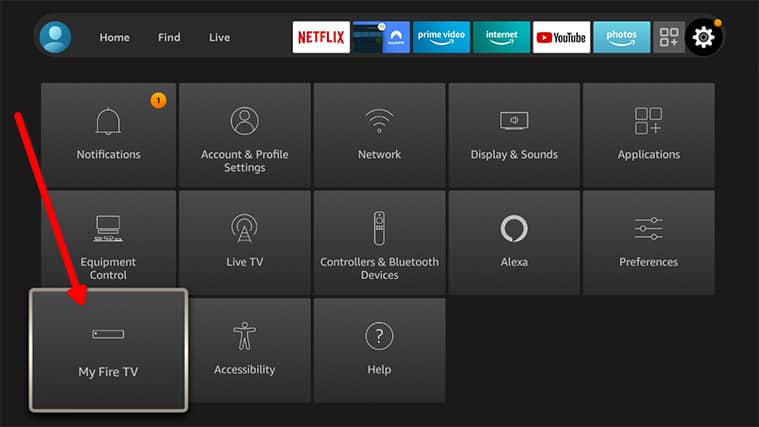 You should see the Device or My Fire TV option right next to the Preferences option on the Settings screen. Click it to complete another step in finding the system information (that is where you will find MAC address or physical address information) of your FireStick device.
Step 3: Select Settings Item Labeled 'About'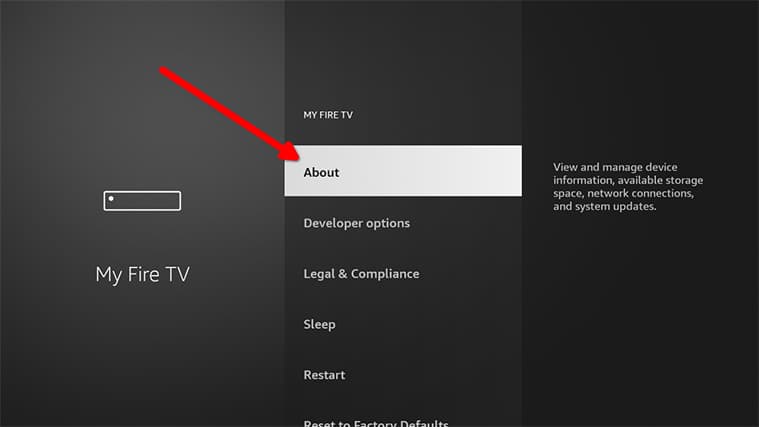 To find MAC address or the physical address of your FireStick device on your screen, click on the settings item that says "About." If your device is a new model, the "About" settings item should be right before the settings item labeled "Developer Options."
Step 4: Click on the 'Network Settings' Item
From the new page, you need to find the option that says "Network." Depending on your FireStick device model, you may see three options on your "About Settings" page. The Network option should be right below the "Storage" option and above the "check for system update" option.
Once you click on the Network option, your FireStick should slide open a bar on the right-hand side. It should show you various bits of console information such as your Wi-Fi address, IP address and MAC address. Note down the MAC address and then use it wherever you need to.
And that's it—now you know how to find MAC address information on your FireStick.
Keep in mind that depending on the model of your FireStick device and the firmware version it carries, you may have to adjust some settings to find the right network menu (eventually leading you to find MAC address information).
In short, no matter what your version of FireStick is, just get to the "Settings" page and from there find a way to go to the "Network" page.
Method 2: Find MAC Address on FireStick (the Hard Way)
Smart TV sets are not the only devices with a MAC address. All devices that are part of a network and connect to the internet have a mac address. In any case, in this section, we'll cover a lesser-known way to find your Fire TV MAC address or physical address, no matter which network you have connected to.
Using this method, you don't even have to go to the FireStick settings screen to find its MAC address. Instead, you can discover the MAC address of your FireStick via your network router. You will need to know the username and password of your network router to access the administration panel and then find the MAC address you are looking for.
This method comes in handy when your FireStick is connected to a network but has a blank display. Before you get started, make sure your Fire TV Stick device has access to a network router.
Here are the steps you need to take to get the MAC address without accessing the Wi-Fi settings page on your Fire TV.
Step 1: Go to the Admin Panel
A simple step: Open a web browser and type in your network router's admin panel address. It should be 192.168.0.1 or 192.168.1.1 or something like that.
Step 2: Input Your Credentials to Access the Settings Page
If you did not change your router's default credential settings, your username and password should both be "admin."
Step 3: Look for the Panel Labeled 'Connected Devices'
This option may be labeled "WiFi Network."
Step 4: Check the MAC Address List
From the "Connected Devices" page, you should see a list of MAC addresses. Each machine that's connected to your router should show its MAC address on this page.
Look for the MAC address that is in front of your Fire TV device's name. Sometimes, the MAC address information is under the device's name; other times, you have to click the device's name to get the MAC address.
Once you have found the MAC address, note it down and then use it wherever you want.
Conclusion: How to Find FireStick's MAC Address
We have covered two methods to find your FireStick's MAC address. The whole process of finding the MAC address shouldn't take you more than a few minutes. The process of finding the MAC address should remain the same for your other smart TV devices as well.
You can use method #2 directly to find your smart TV set's MAC address. Using method #1, you'll have to change some steps, but the general procedure will remain the same for finding a MAC address on a smart TV.
Find the "Settings" page and then go to the network's page. From there, get the MAC address information you need.