The Mobdro app has become a very popular streaming platform even though there is no shortage of standalone apps that allow FireStick users to have access to high-quality content from major content networks, including paid TV programs and cable services.
Install Mobdro and you can easily access all of your content from a single app. Mobdro specializes in taking all of your content services and organizing them on a single screen for you to enjoy.
There's one problem for FireStick users though: You cannot find the official Mobdro app on Amazon App Store. Instead, you have to sideload it. And that is exactly what we will be looking at in this guide on how to install Mobdro on FireStick.
Let's get into it.
What Is Mobdro and What Does Mobdro on Firestick Do?
Mobdro is a free and open-source platform that can record and play broadcasts that content producers stream through online channels.
Currently, the streaming aggregator app has a total of two offerings:
As is the case with almost all streaming services, the first package allows users to stream content on Mobdro with advertisements.
The second option also allows users decent streaming but without any ads.
You don't have to purchase any subscription to sign up for the second package. However, if you do want to use the second package you will have to give Mobdro the permission to use your device's hardware resources to run activities when it is idle. That is the trade-off you pay for an ad-free streaming experience.
Note:
In practice though, when you sign up for the second package, the streaming app uses your FireStick device to assist with content distribution.
Other Mobdro users who are active can stream content using your FireStick device's resources. Your device essentially becomes a server for streaming media to others.
If you are uncomfortable with such an arrangement, the Mobdro app makes it easy for users to change their package. Just look at the bottom of the page and then click on the option that says Ads from the shown toolbar. Navigate to remove or enable Ads from the shown screens.
What Can You Watch After You Install Mobdro on Firestick?
Currently, the Mobdro app offers movies and TV shows—including live TV channels—within 12 content categories.
These include tech-focused content streams such as that of NASA, audio streams, movie streams, TV streams along with other popular TV channels. There's also additional content that does not fit into any category.
To take an example, some of the streams that Mobdro offers through its Channels category are SyFy, USA, TBS, CBS, CW and ABC, along with many others.
The Movie category allows users to stream a range of different movies, available anytime.
After you install Mobdro, you can watch movies in a mix of categories, including Action, Cult Classic, Horror, Star Trek, and many more.
If you move to the Tech section, you should be able to find NASA Live, Twit Live, SiliconAngle, NASA HD along with other categories. There's a lot of live TV content in other content categories as well.
Is It Legal to Install Mobdro on FireStick and Stream Content From It?
As you might expect, the answer to this question is not a simple no or yes. The main issue here is that not all networks stream content for free online. Live TV has been in existence for decades now, and even though the content and broadcasts of live TV channels have all rights reserved to the copyright owner, they often still air for free.
The legality here depends on the type of content you stream. If the content you're streaming after you install Mobdro has the "all rights reserved" tag, then that could get you in legal trouble.
For example, some Mobdro channels allow users to stream the popular TV show Adventure Time. However, Adventure Time is typically hidden behind a subscription paywall from a streaming service provider, such as Hulu, or a cable company that owns the rights to distribute episodes.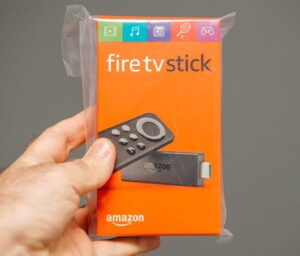 If you take a look at Mobdro's End User License Agreement, you can see that the company does not control the location or content of the streams it offers and that it cannot be held liable for any copyright infringement in streams or content. Furthermore, the document mentions that the responsibility of copyright infringement is solely on the pages hosting the content.
As such, no one can claim that Mobdro is responsible for the content streamed through users' Amazon FireStick devices. Mobdro maintains that it only acts as a vehicle. It is the job of the users themselves to make sure that they do not stumble upon copyrighted content.
Another important point is that the official Mobdro app is not available on the Amazon App Store, the Google Play Store or the Apple App Store. This may cause concern for people who do not want to violate copyright policies.
Of course, if you've already purchased a subscription package for a cable or streaming service that owns the rights to distribute the content, then you don't have to worry about whether or not you're violating copyright laws.
The real problem arises when you try to consume or distribute media that you do not have permission to stream or distribute—outside of a platform that owns the rights to present the content to users.
This is where content that isn't strictly available in your country also comes into play. There are a lot of legal issues and there is simply no general answer to the question of whether or not Mobdro is legal.
What you can do is to sign up for a VPN service and then use that to keep all of your online browsing history and the content that you consume on Mobdro private. VPNs will also allow you to encrypt your data and preserve your anonymity anytime you're online, even when you're not streaming.
⚠️Attention: Before using FireStick, make sure you use a VPN. If you value your privacy, and you want to stream in a fast and secure way, use a VPN. I use NordVPN which is the fastest and most secure VPN, not to mention one of the cheapest. No matter what device you choose to stream from, NordVPN always secures you. The customer support is solid along with a 30-day money-back guarantee.
Get 70% Off NordVPN
.
Step-by-Step Guide on How to Side-Load Apps on FireStick
As we mentioned at the beginning of this guide, there is currently no way to install Mobdro apk on FireStick from the Amazon App Store. So you will have to sideload Mobdro FireStick via Mobdro.apk.
Installing apps that are not available on the App Store requires the FireStick user to enable an option manually (for Mobdro on Fire TV Stick). Do take note that you will be taking a certain level of risk while enabling this option; after you manually enable the option, you'll be able to install non-Amazon apps on your FireStick device.
But since you only want to install Mobdro APK on FireStick in this case, there is nothing to worry about.
Step 1: Go to Settings
First, go to the Home option from the main menu and then use your Mobdro Fire Stick remote control to highlight the option Settings.
Step 2: Go to My Fire TV
Once you're at the Settings menu, pick the option that says Notifications and then choose the option that says My Fire TV.
Step 3: Access Developer Options on Your Fire TV
From the My Fire TV, you need to choose the option Developer Options.
Step 4: Enable Apps from Unknown Sources on Your Fire TV
This is the most important part. You must select the option Apps from Unknown Sources from the Developer Options screen and then choose the option that says Turn On. It should appear on the screen as a pop-up.
And that's it (for now) on how to install Mobdro for FireStick.
Before moving on to the next section, you may want to disable the Apps From Unknown Sources option once you're done installing Mobdro APK on FireStick at the end of this guide.
Install Fire Stick Mobdro APK via Downloader on Your Fire TV Stick
In this section of the guide, we will take a look at how to install Mobdro apk for FireStick by first installing Downloader.
D
ownloader is an app that helps users download apps that aren't available on the Amazon App Store. The app itself is
available on Amazon
.
This part of the guide is why we had you follow the previous step to toggle ON Unknown Sources. In our case, the Unknown Sources app is the Downloader app.
Step 1: Download Downloader on Fire TV Stick
First, turn on your Amazon FireStick and then use the Amazon App Store search function to search Downloader. Once you have located the app, click on it to open its listing.
The toolbar is a very useful feature on FireStick. Use it. Once you have it open, click on Get.
Step 2: Run the App on Your Fire TV Stick
Once you click on Get, Amazon FireStick will take care of the rest. When your device installs the app, click Open.
To locate the Downloader app, you can go to your FireStick home screen and then click Recent.
Step 3: Enable Downloader Permissions on Your Fire TV.
To do what it needs to do, the Downloader app will need some permissions on your FireStick. Choose the option that says Allow so that Downloader is able to have access to files and media present on your Amazon FireStick device.
Step 4: Go Back to FireStick Home Screen on Fire TV
Head back to your FireStick home screen and input this address: http://bit.ly/mdroapk. (This address gets you the Mobdro APK that you'll need for live TV and other streaming features.) Then hit Go.
If you are on the FireStick platform, your device will automatically access the URL and download the APK file. Since you have Downloader on your device as well, it will also install the app.
Step 5: Delete the Downloaded File on Your Fire TV
Because you have Downloader on your device, you should see a pop-up notification. From that notification, click on Delete. Doing so will delete the APK file that you just downloaded.
You don't really need the APK file since you have already installed the Mobdro APK app. It is a good idea to get rid of the downloaded APK so that you can save some space on your FireStick device.
Step-by-Step Guide on How to Get Mobdro on FireStick Home Screen
You need to modify your Home Screen a bit if you want Mobdro to appear on it. By default, your FireStick will have it somewhere in the app library. But you can add it to your home screen for easier access.
First, you need to take your FireStick remote and hold down the Home button. After a few moments, your FireStick will show you a shortcut menu.
From the resulting screen, click Apps. If you didn't change anything once on the new screen, FireStick will have already highlighted that option for you. Navigate to the Mobdro APK app icon.
Next, press the hamburger button on your remote, which opens up the Menu. Your FireStick should open up a menu on the bottom right side of your screen.
Choose the option that says Move to Front.
And that is it. You can now access the app via your Home button.
How to Update Mobdro
Before you can actually update Mobdro, you need to do a couple of things:
Make sure you have a solid and reliable internet connection with download speed exceeding 500 KB/s.
Make sure your Wi-Fi (or another type of internet connection) is present when updating Mobdro.
Make sure your device has enough battery life. Keep it above 30% to be safe.
You should have at least 500 MB of free disk space on your FireStick.
Now, there are two ways to update Mobdro:
Method #1: Uninstall and Reinstall
The first method is to simply uninstall your current/older edition of Mobdro. Then clear all cache. As you might guess, it's better to do it before you uninstall the app.
Then go to the official Mobdro website and download the latest version. Once you click the downloadable folder, it should give you the right APK file. Keep in mind that you can download Mobdro on your PC and then shift it to FireStick. Or you can simply download Mobdro on FireStick directly.
Once you have the APK file, install it through the usual process. Enable unknown sources and then move forward.
Method #2: Update the 'About' Menu
In this method, you should open the Mobdro app on your FireStick and then go to the menu option. Then hit About. This should show you your current version and whether or not any updates are available.
After that, go to the Premium options and click Update. Mobdro should check for updates automatically if there is one available. You may have to give the app permission to make changes to your FireStick device.
Once FireStick Mobdro downloader has downloaded the file, it should show you a pop-up that will ask you to modify the current app and install the latest version. Hit Install so that the app can begin the process.
The next step is to click on the Open button to start streaming from the Mobdro app. You can go to the About section again to confirm that you have the latest version.
Conclusion: How to Download Mobdro on FireStick
Now you know everything there is to know about how to install Mobdro on your Fire Stick device. As you can see, the process itself is fairly simple.
Essentially, you just need to enable Apps from Unknown Sources and then get the Downloader app on your Fire TV, after which you need to use the Downloader app to get Mobdro APK on FireStick.
If you have any questions, feel free to let us know in the comments section and we'll try to get back to you with a solution as soon as possible.