In this post, you are going to read the installation process of Spectrum TV on firestick. You are here, it means that you are looking for a complete entertainment source that you can make use for streaming out live TV. As the world of technology is growing on at a breakneck pace, it has enabled most of the people streaming out live TV and on-demand contents online.
Amazon Fire Stick is one of the most loved streaming sources today. But is it easy to run without using any app on it? Surely not. One needs to install a perfect app to run this platform smoothly and here we are one of the most favored ones i.e., Spectrum TV. It is one of the leading entertainment apps that have changed the aspects of online live TV streaming and on-demand contents. If you are interested in getting in detail with Spectrum TV, we are here with what exactly is it and how to download & install Spectrum TV App on Firestick/Fire TV in 2020.
Spectrum TV For Firestick (Overview & Features)
Leading up with one of the most excellent features, Spectrum TV is one of the best apps that you can easily install on your Firestick to enjoy live TV streaming and online content without any hassle. The app offers you an extensive library from where one can easily search and get there favorite TV channels and movies without any hassle.
Features of Spectrum TV on Fire TV
Spectrum TV is a vast platform where you can easily enjoy more than 250 live channels anywhere from the world. The only thing that can interrupt you is the internet connection. This most excellent streaming app option comes up with a secure customization section. It is a fully loaded live TV streaming app where you can enjoy various beautiful features like:
It offers users the facility of possessing more than 250 live TV channels to enjoy on
Users are free to enjoy more than 30,000 on-demand movies and TV shows seamlessly
Working internet connection is the only requirement to enjoy hassle-free access here
One need to make proper registration using his/her username and password here to stream out their favorite programs on Firestick
Search is quite easy to do here. One can easily do it just by using category, titles, channel numbers, and other provided options
Easy customization is available here with the provided guide
How to Install Spectrum TV on Firestick?
If you are here looking for the installation process for the Spectrum TV app on Firestick & Fire TV, just get relaxed as we are here with the most natural solutions. The app is readily available on a few Firestick TV devices. We will guide you here about how to download Spectrum TV on Fire TV & firestick with both the installation processes, one using ES File Explorer and the other is using the "Downloader" app.
If you are outside of the USA then Spectrum will be geo-blocked for you and you won't be able to use it. The app detects your location (via your IP address) and will know if you are not in the USA and then it will block you. We will not go into the workaround for that here, if you would like to know more about it then you can at Security Gladiators.
Method 1: Install Spectrum TV on Firestick Using Downloader
Go to the Settings option on your Firestick and then select Device/ My Fire TV option from there
Tap on Developer and enable ADB Debugging option and Apps from Unknown Sources
Now go back to the home screen of firestick and search for Downloader app
Tap on Downloader App to allow downloading.
Can't find the downloader app? Follow this guide to install Downloader on your Firestick.
Launch it from your Apps menu and hold the select button on Firestick remote.
The on-screen keyboard will open up for you.
Enter URL http://bit.ly/2UENV4A in the search bar and then press Go option.
Wait for the download to complete and then press Next
Click on Install and wait
Once done, tap on Open to launch spectrum tv on Firestick.
Method 2: Install Spectrum TV on Firestick using ES File Explorer
Turn on Amazon Firestick and then type Es file explorer in the search bar
Click on "Get" Or "Download" to start downloading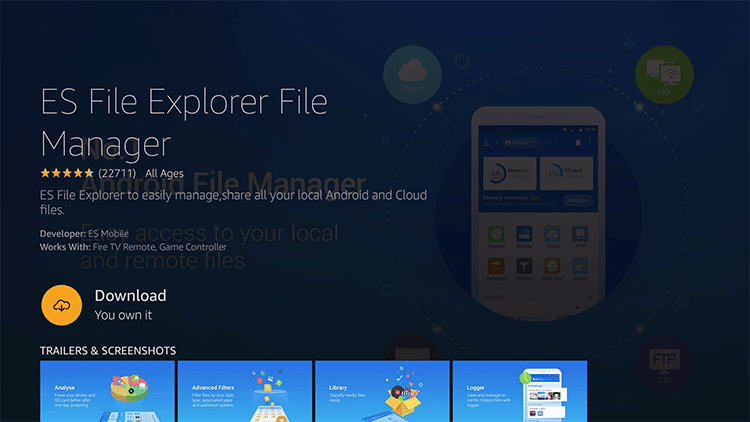 Launch Es file explorer and click on Downloader icon
Click on "+" button and enter this URL http://bit.ly/2UENV4A
Click on Download Now and the app will start downloading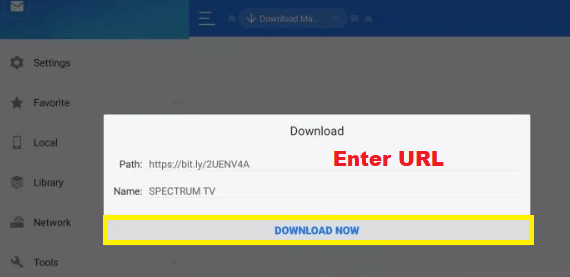 Open the File & click on install
Once done, press the Open button to launch the app
Also, check – how to watch Now TV on Firestick
Spectrum TV For Fire TV 2020 (Video Tutorial)
Conclusion
If you are willing to enjoy a large section of live TV to streaming on, you can easily install the Spectrum TV on Firestick to let all this happen. We have provided you above the two different methods for installing Spectrum TV app on Firestick & Fire TV, you can easily use any one of them as per your requirements.
Frequently Asked Questions (FAQ)
Spectrum TV App not Working?
There are many causes for that. Let's take a look at some of the most common ones.
My TV App on Firestick is not Showing me All The TV Shows
This is a common problem for new users who are unable to stream content from all available Spectrum TV channels. We have also seen this happening for a specific category of channels known as video-on-demand channels. The cause of this type of error is parental controls. If you have enabled them then that might be why your  TV app on Firestick is blocking some of your TV shows as well as some of the content on available channels.
As for fixing this issue, all you really need to do is to either adjust your current filters or switch off parental controls altogether. To do that, simply go to Settings and then hit Parental Controls. From there, either modify some values or switch off filters completely.
Unable to Stream From Spectrum TV app
Sometimes your official  TV app on FireStick (that is, Spectrum) is either not streaming anything or streaming content very slowly. As with any other problem, this problem has many causes. Your home network may be slowing down or you may not have the latest update for your Spectrum TV app. There can be a host of other device issues as well. The best way forward is to start off by fixing your home network.
Make sure that your home network is giving you the speed that you have signed up for and is configured properly. And while you are at it, make sure your WiFi is adequate. Bring your streaming device closer to where your router is placed. On that note, we also recommend that you remove all barriers or obstacles like walls, doors, and other regular furniture stuff. These can potentially scatter your WiFi signal to the point where it does not provide your device with any internet connectivity.
The best option is to get another wifi router (use an old one laying around) and use it as a repeater to extend your wifi coverage and set it up next to your streaming device. You can also upgrade your wifi to Googles mesh WiFi routers for super-fast speeds. If you find that too tedious to do then ditch WiFi and switch to the old Ethernet cable method.
Now, if you still have not managed to fix your problem then perhaps what you need to do is to update your official Spectrum TV app. Make sure you get the latest version. That is the best way of avoiding any kind of streaming issues. For those who are unable to update their app, they should go ahead with the tried and tested method of uninstalling the app first and then downloading the latest version of it from the official source and then reinstalling it on the device.
That should take care of any streaming issues. But just for sanity's sake, you should also switch off your device from time to time. Do it by pulling out the power cable directly from the related socket. Just hold on for 30 seconds or more and then plug it back in. For most devices that means they have to reset and/or restart. In our experience, this usually takes care of all the annoying little app issues which may or may not cause problems with streaming standard content.
Spectrum TV app Not Working on Roku
This error can sometimes creep in even if the TV app on Firestick has been working for the user before. The other thing you should know about this error is that it occurs in many streaming devices and not just Roku. To solve this problem, make sure you have an updated app and a working internet connection. Also take note that when we say you should have an updated app, we mean that you should have an updated device and Spectrum TV software. Take care of the DNS settings of your device. As mentioned before, sometimes rebooting the device by pulling the plug from the socket, waiting for a bit and then plugging it back in can resolve many issues.
I Can't Click Buttons
If you are unable to click the various buttons, then we suggest you connect a Bluetooth mouse or Bluetooth keyboard with your device. That will not only solve the problem but also make it easy for you to navigate the available menus much more quickly.